Used Piano Reconditioning & Piano Restoration
Every used piano in our showrooms look and plays like new thanks to our certified piano reconditioning process, detailed below. We also offer piano restoration services for both antique pianos and pianos damaged by fire or water. If your piano has been damaged too extensively to be repaired by our restoration experts, we'll work with your insurance company to help you replace it.
Our Certified Piano Reconditioning Process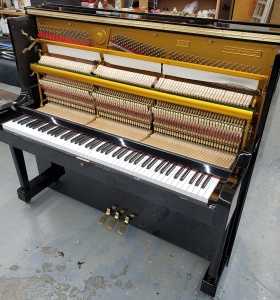 Each of our used pianos undergoes rigorous review and reconditioning before being placed in our showrooms for sale. We believe in our process so strongly that we guarantee piano parts and labor for 10 years after purchase.* Here's what our used piano reconditioning process entails:
Structural Inspection: We inspect the back frame for lack of integrity and evaluate the pinblock, strings, soundboard, and bridges. This is a pass/fail inspection.
Interior Reconditioning: We check for signs of infestation from things like mice, moths, termites, and stinkbugs and then clean, fumigate and deodorize the interior.
Caster Reconditioning: We lubricate, repair or replace the casters, as needed.
Key Leveling: We use a level to adjust the keys, ensuring evenness, and we either ease or replace the key bushings, as needed.
Action Mechanism Adjustment: We tighten the action screws, reshape grooved hammers, and regulate for an even response.
Pedal Assembly Adjustment: We tighten, adjust and lubricate the pedal mechanism.
Tuning: We pitch-raise and stabilize the tuning, then tune to concert pitch.
Exterior Reconditioning: We repair, touch up and buff out the finish of each piano and bench and polish and buff out all hardware.